CHEAPER
£20bn less than existing plans for HS2 & HS3.
BETTER CONNECTED
Improves 94% of journeys and reduces journey time by an average of 40%.
CLEANER
Saves 600 million tonnes of CO2 and avoids the Chilterns AONB.
SMARTER
Improves regional rail across the UK and integrates with the existing rail infrastructure.











COLIN ELLIFF BSc CEng MICE
CIVIL ENGINEERING PRINCIPAL
Colin is an experienced railway civil engineer, having worked in the industry for more than 30 years.
On graduation, Colin joined British Rail's Eastern Region at York, and progressed via the Southern Region at Croydon.
At rail privatisation he joined a major rail consultancy, continuing his career in a variety of design and construction roles. These appointments covered all aspects of railway civil engineering, including bridges and structures, and the reshaping of major London termini. Colin also gained considerable experience in multi-disciplinary projects, including track realignments and electrification and resignalling schemes.
OUTSIDE HIS DIRECT EMPLOYMENT, COLIN HAS TAKEN A KEEN INTEREST IN THE DEVELOPMENT OF NEW RAIL SYSTEMS, BOTH HIGH SPEED INTERCITY RAILWAYS AND ALSO NEW LINKS TO AIRPORTS. HE HAS WORKED EXTENSIVELY WITH THE 2M GROUP OF LONDON COUNCILS TO PROPOSE ALTERNATIVE SCHEMES TO IMPROVE RAIL ACCESS TO HEATHROW, AND ALSO WITH PENNINE COMMUNITIES TO REDEVELOP THE WOODHEAD RAIL CORRIDOR. ALL THIS SUPPORTS THE CENTRAL VISION OF HIS HIGH SPEED UK PROPOSALS, FOR AN ACCELERATED AND HIGHER-CAPACITY NATIONAL INTERCITY RAIL SYSTEM.
QUENTIN MACDONALD BSc (Eng.), C.Eng., FIRSE., MIET
SYSTEMS ENGINEERING PRINCIPAL
Quentin is a Chartered Electrical Engineer with 52 years continuous experience in the Railway Industry.
He joined British Rail as an Engineering Graduate in 1961 and specialised in Railway Signalling and Telecommunications until 1994 when he became a railway consultant working on projects such as the re-development of the West Coast Main Line and the European Rail Traffic Management system (ERTMS/ETCS).
His particular skills and experience include: the development of new railway lines; strategic and business management in a railway engineering context; safety and quality management systems; chairing multi-national technical meetings and knowledge of European and world-wide railways and signalling systems.
In parallel with his engineering career, Quentin has been an active local politician including 12 years as a City of York councillor; 4 of them as a member of the Executive. This has given him considerable insight into the political process including valuable contact with the national political scene.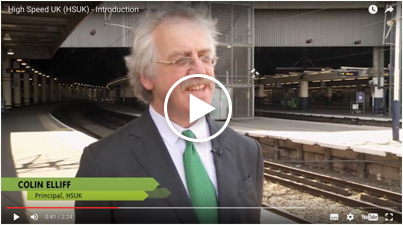 "HS2 modelling is shocking, biased and bonkers."
Margaret Hodge, Chair, Public Accounts Committee
"No economic case for HS2... it will destroy jobs and force businesses to close."
Institute of Economic Affairs